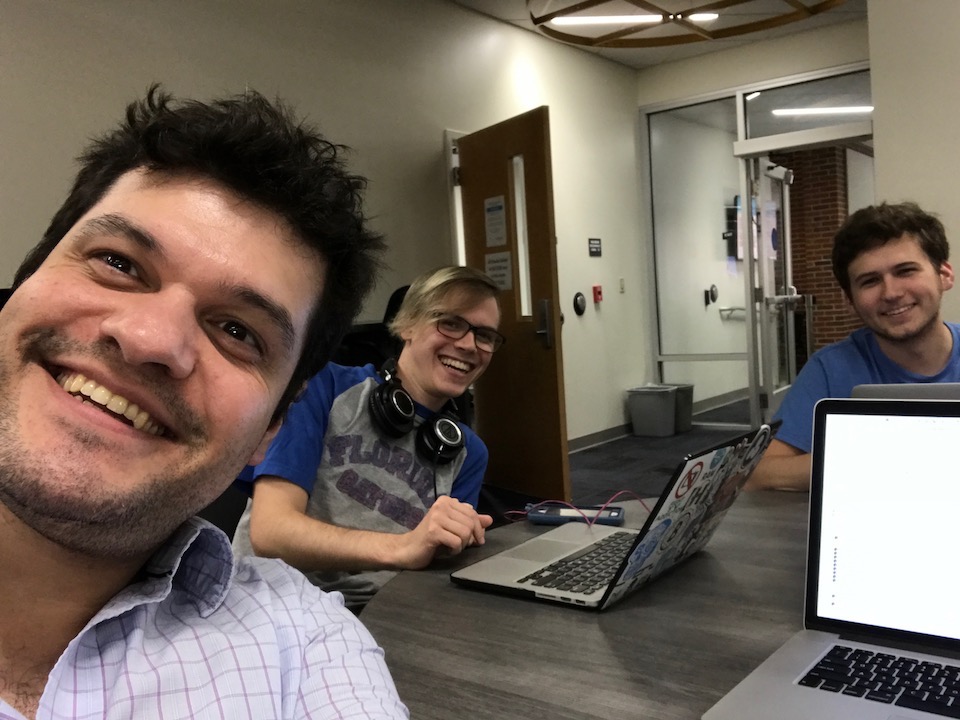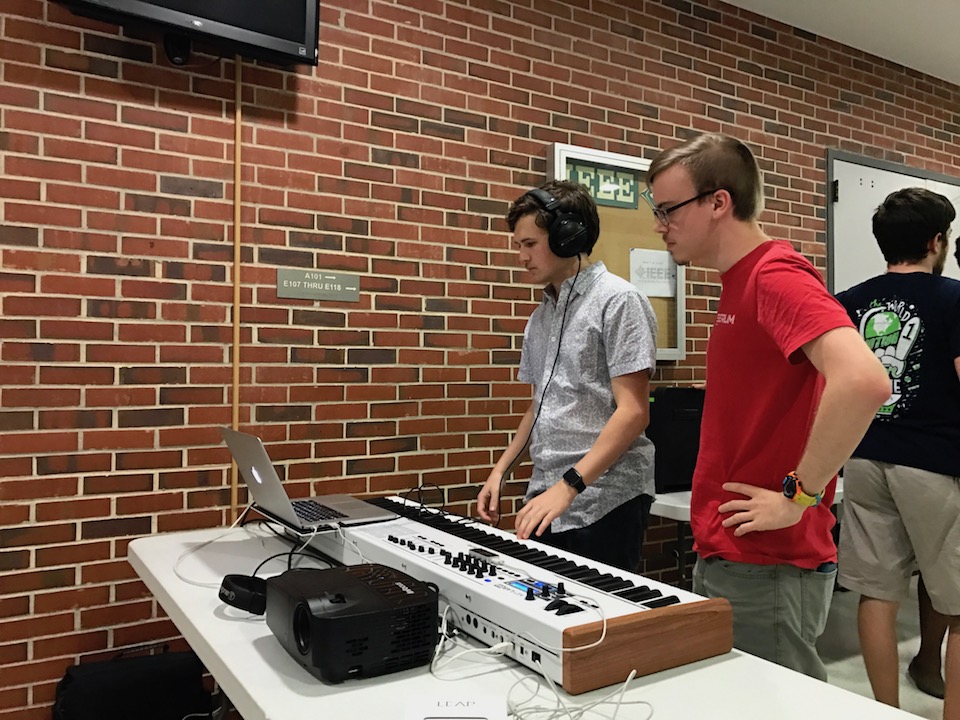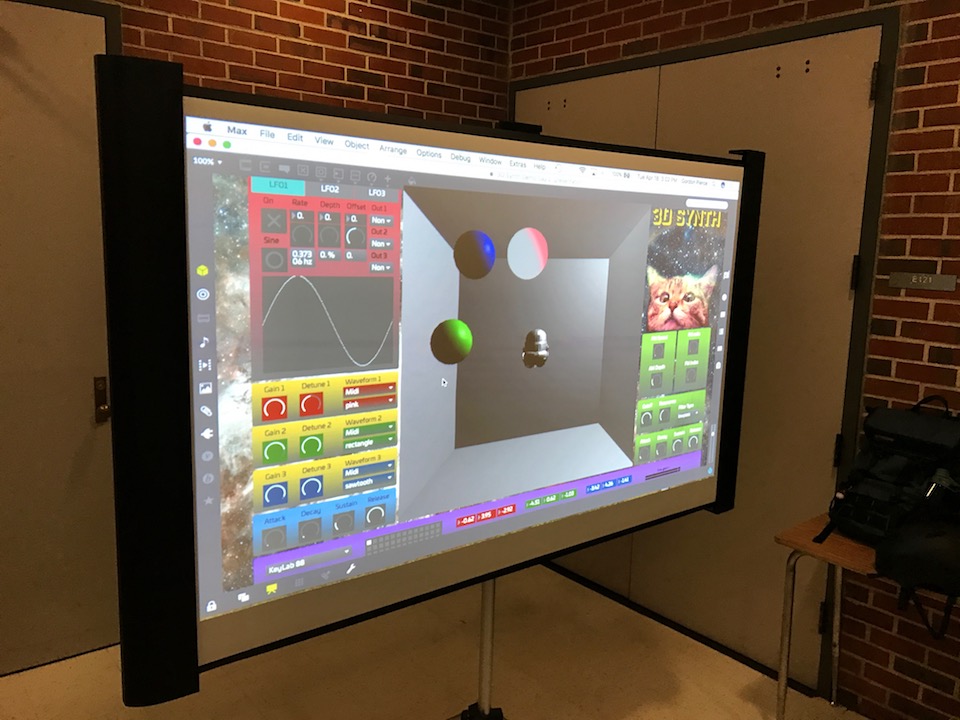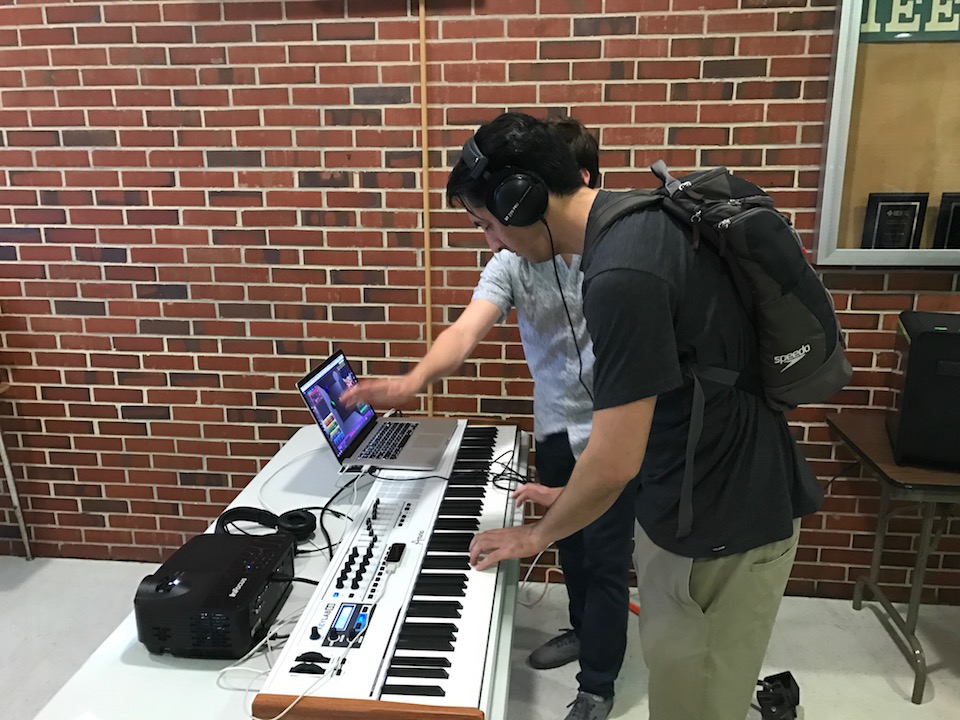 Coding 3D Synth in Max 7
News & Events
Subscribe at the bottom of the page to be informed of news as they arrive.
Unbalanced Connection 57
Feb 19, 2016
On Friday, February 19th, I will present my 8-channel electroacoustic piece called Microminitronics (2016) at the 57th Unbalanced Connection, the semiannual series of concerts hosted by the University of Florida and dedicated to electroacoustic music. Microminitronics is a piece in 19-tone equal temperament in which a harmonic framework is developed by exploring heterodynes of a center frequency that are not fast enough to constitute a frequency modulation. These heterodynes' relative durations to one another are given by ever-changing duty cycles of rectangular waves, the "modulator" waves. Additive synthesis of harmonically related partials is unraveled on top of it all, adding harmonic and rhythmic diversity.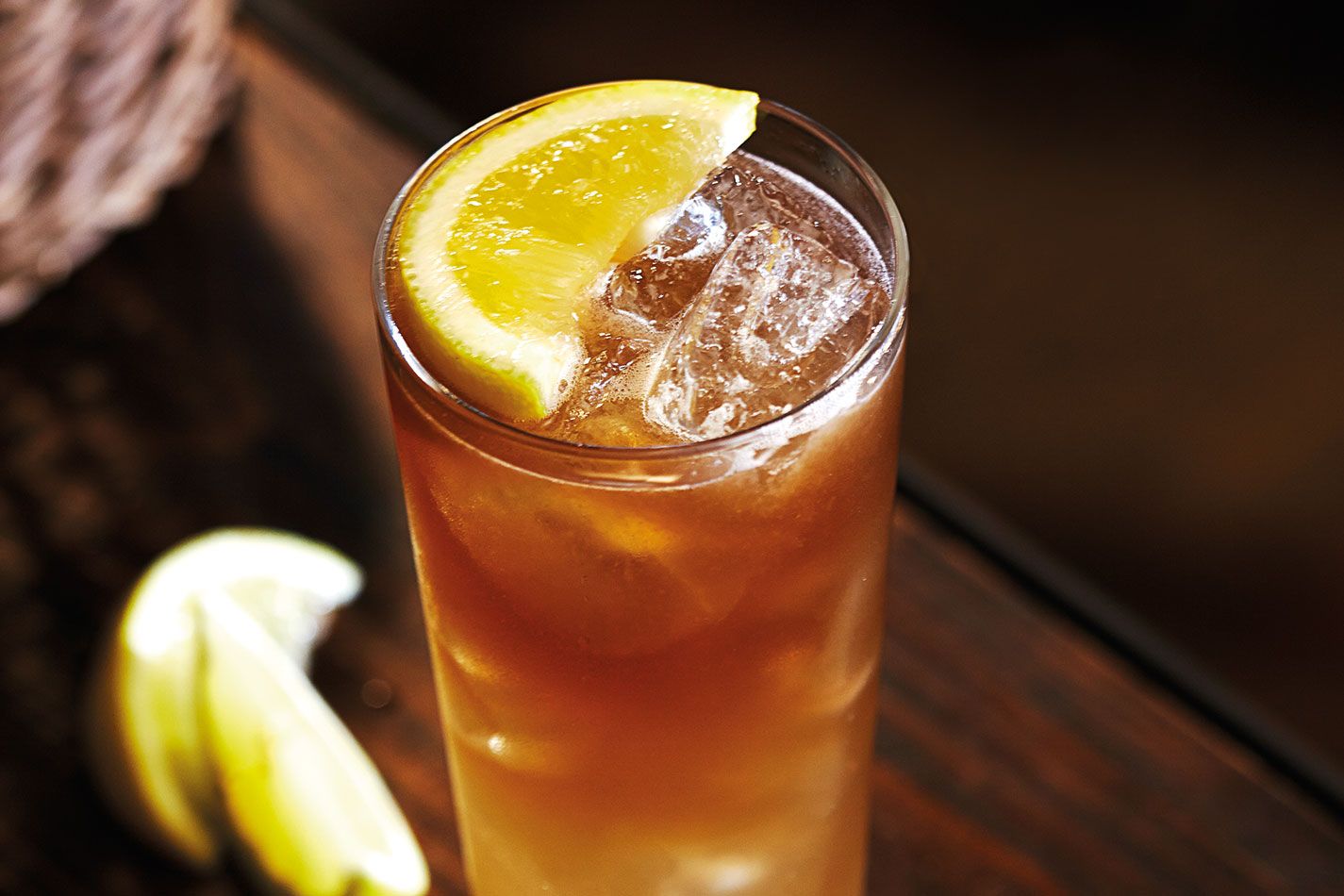 Society of Composers, Inc.
Mar 15, 2014
The University of Florida student chapter of the Society of Composers, Inc. will be hosting on March 15th 2014 at 3 P.M. a recital in MUB 101 which will feature Long Island Iced Tea (2014), a piece for fixed media I recently wrote. A long island iced tea is arguably the most deceiving drink there is. A typical recipe will include vodka, tequila, gin, triple sec, sour mix, all topped off with cola, but not a single drop of iced tea, in spite of its appearance. My piece is a long island iced tea of sorts, where a banjo improvises surrounded by clouds of hydrogen, except the banjo is actually a comb-filtered lawn mower. The hydrogen clouds come from an application of Rydberg's formula, which describes with incredible accuracy the quantum leaps of electrons as light passes through excited hydrogen gas. These leaps leave a trace of spectral lines and their spectra, transposed to audible frequencies, comprise the cloudy sounds in the piece. If getting inebriated is the intention, then this piece, just like the drink, will surely hit the spot.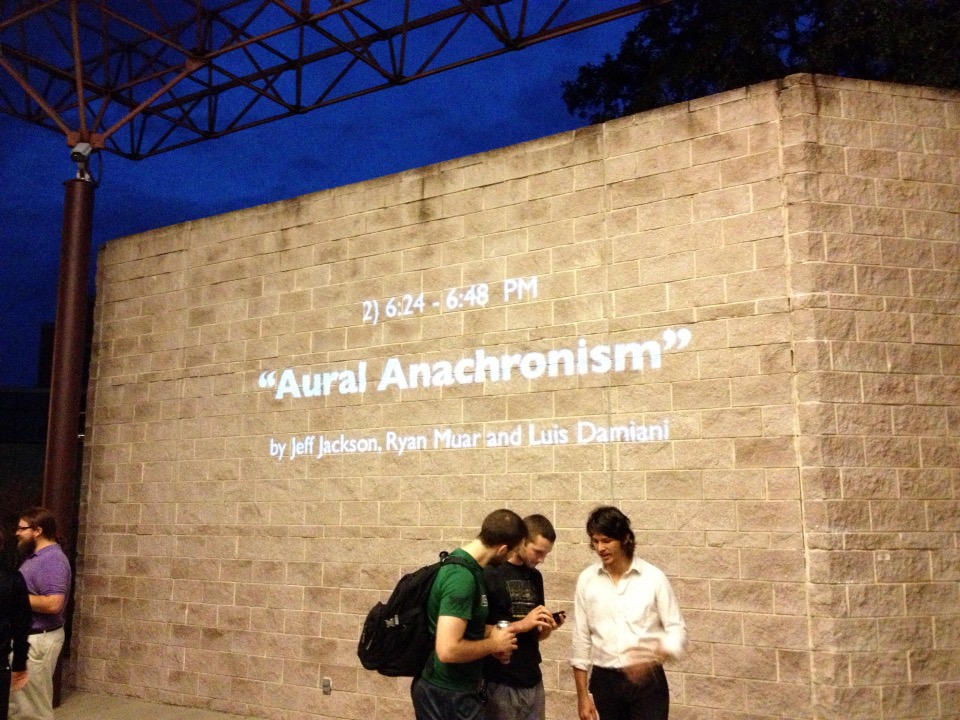 SYCOM @ CAM 2013
Feb 7, 2013
Every year at USF the Systems Complex for the recording and Performing Arts and the Contemporary Art Museum join forces to produce an interdisciplinary art event called SYCOM @ CAM. I will be presenting this year an electroacoustic piece named Aural Anachronism (2013) and the event will take place inside and outside by the entrance of the Contemporary Art Museum on February 7th between 6:24 and 6:48 P.M. The piece is split into three parts, the other portions composed by Jeff Jackson and Ryan Muar, mine being the last. The concept is how technology influences art, and my piece explores the use of video game controllers to trigger musical events while playing the LEGO Star Wars Saga. The indoors portion of the piece, happening simultaneously, will consist of a piece for fixed media, electric cello and electric guitar, performed by Jeff Jackson and Ryan Muar, respectively.
O Guri Takes Over Portugal!
Oct 8, 2012
It is time for the city of Seia in Portugal to check out O Guri, a full-featured cinematic production for which I wrote the original music. The movie already won the Best Feature Soundtrack award at the 6th Cinefantasy International Fantastic Film Festival in 2011 and will now be presented in the Cineteatro at the Casa Municipal de Cultura as part of Cine'Eco 2012 Festival Internacional de Cinema Ambiental da Serra da Estrela on October 8th 2012 at 3 P.M.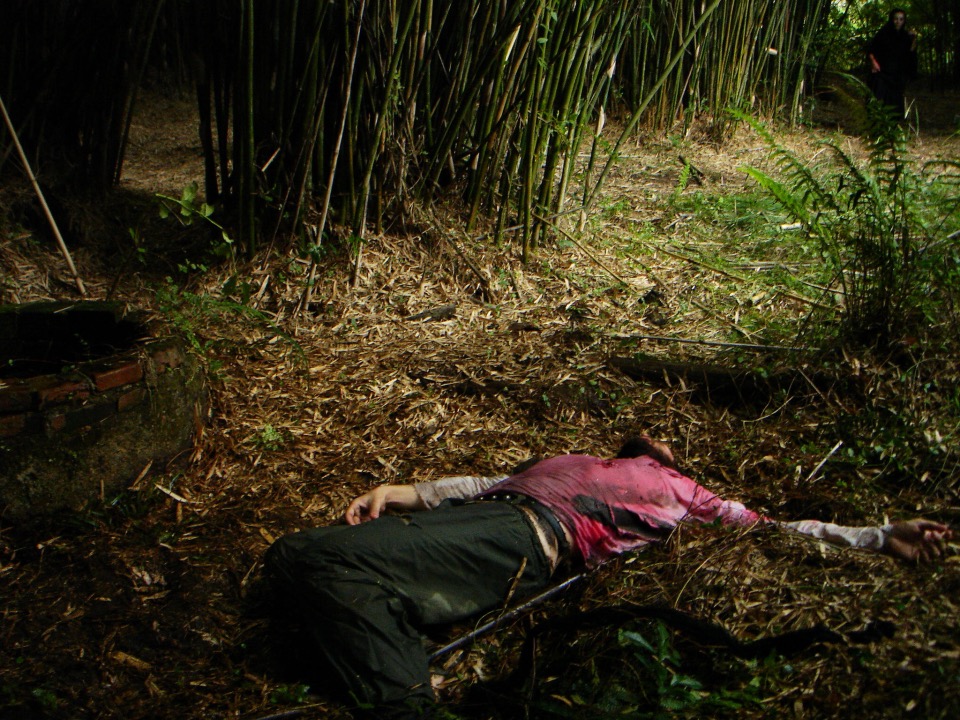 O Guri in Rio
Jun 30, 2012
O Guri is on fire! This time it will be presented in Rio de Janeiro, Brazil, as part of Cinesul 2012 – XIX Ibero-American Video and Cinema Festival. The venue will be the Centro Cultural Correios, on Rua Visconde de Itaboraí, 20 – Centro (Tel. 2253-1580) and you can come check it out on Saturday June 30th 2012 at 2 P.M.
O Guri in Portugal
May 11, 2012
Incredibly talented Brazilian film director and writer Zeca Brito hit a home run with O Guri, for which I had the honor of writing the original music. It will now be featured on Festin Lisboa, a competition that takes place annually in Lisbon, and presented at 4 P.M. on May 11th 2012 in Sala Manoel de Oliveira. Check out the program here.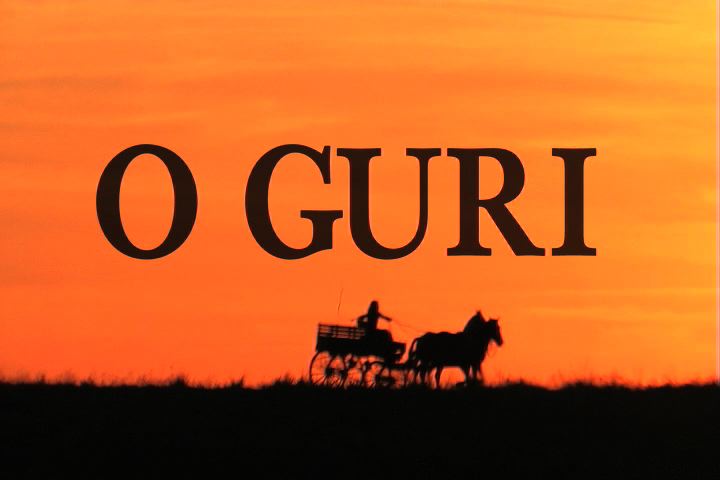 Première of O Guri in Bagé
Jul 7, 2011
O Guri is a feature film directed by Zeca Brito whose original music was written by me which will be premiered on July 7th at the Cine 7 in Bagé, Brazil. After a few years in the making, everybody involved, including myself as the composer of its original music, is absolutely thrilled to watch it on the big screen! The original music features amazing flutist Artur Elias Carneiro and cellist Rodrigo Andrade Silveira.